Cutwork 303
Tutorial & Machine Embroidery Designs
Create one of a kind tablecloths, doilies,
bedspreads and clothing.
This is the third installment in a series devoted to Cutwork and other machine embroidery techniques.
Also called Broderie Richelieu, cutwork is often feared by crafters because of all the little things that
can go wrong. In the first installment,
Cutwork 101
, the
purpose was to get the crafter acquainted with a new, no fail and very basic approach to cutwork by using
tools that are nowadays easy to find and also make our life easier.
In the second installment,
Cutwork 202
, the purpose was to
learn how to do a continous border, again with tools that would make this even easier. A tutorial was also
included, explaining and giving tips on how to cut out the tiniest of pieces with a minimum effort and
and maximum results, even for those of us with wrist and/or hand issues.
Cutwork 303 is ALL about the bigger cutwork designs. At first glance, one would think that the bigger the
cutwork, the easier it would be. Right? Wrong!! This is so very wrong. On the contrary, it is just as difficult
but for totally different reasons. Bigger openings bring forth different problems like the fabric shifting.
Also, if a piece of fabric should remain in the opening but not touching the rest of the project, then the problems
can be even greater. A tutorial comes with this ensemble that will show you all of the issues we've encountered
and all of the scenarios we've tried. This includes all of those that failed in the hopes of avoiding
all this unpleasantness and once again offer you the possibility of great results for less effort.
Close-Up of Stitchouts
Examples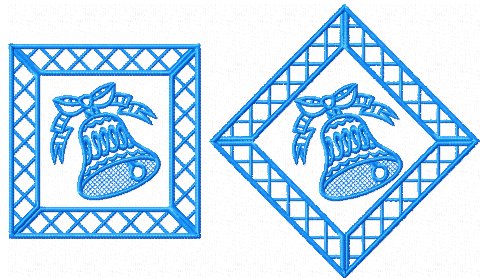 Perfect example of how simply turning
a design can create a dramatic effect.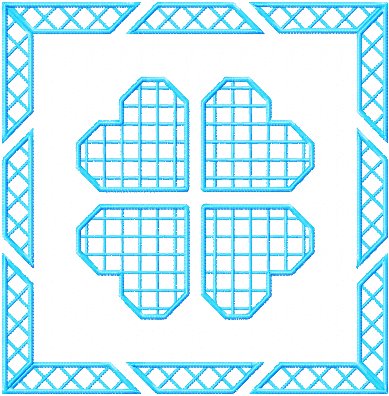 Note that the set comes with completely illustrated instructions to make
your project the easiest one ever.