Instructions for Pineapple Lace Baby Bonnet
Click to enlarge pictures
1. Using Marie's instructions included in the PDF file, stitch out 4 pieces of Marie's Pineapple Lace square MEH-lm10-m11 from the Pineapple Lace Making set. s-ew them together in a row. The designs can be found here:
http://www.myembroideryhaven.com/shop/p ... cts_id=724
2. Cut a strip of fabric 4 inches wide and 14 inches long. Serge the edge very close to the cut edge, or finish with a zig-zag. Turn over the 2 short edges and one long edge ¼ inch and s-ew down to hem them. Turn over the last long edge ½ inch and s-ew close to the serged edge to form a casing.
3. S-ew the lace to the end opposite the casing.
4. Thread a cord through the casing and pull tight. Knot it well. Trim off the cord ends. Work the knot into the casing to hide it.
5. Attach ribbons to the front edge of the Lace to form the bonnet ties.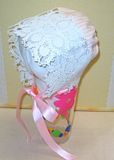 …
…