JenniferB's Binder Cover
BINDER/BOOK/PHOTO ALBUM COVER: This might make a special gift for a customized baby or wedding album.
(All of the pictures are clickable to go to larger images)
This quick and easy cover can be used for 3 ring binders, books or photo albums. An added bonus is that there is almost no measuring!
1. Lay the opened binder on a piece of wrong-side-up fabric. Rough cut the fabric slightly larger then the open binder, and with extra on the ends to make the fold over inside flaps.
2. Trace around the outside of the binder with a pencil or temporary marker. Make marks for the edges of the front and back and spine pieces. Remove the binder and using a ruler mark the fabric on the wrong side.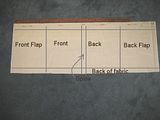 3. With thread matching your fabric,
along all the marker lines with a size 3 straight stitch. The stitching lines will become your
ing and placement guides for later steps.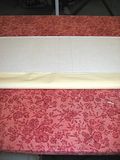 4. Rough cut a piece of batting slightly larger than the front of the binder and the spine.
5. Lay the fabric right-side-up on the rough cut batting piece, positioning the batting so it covers the front and spine portions. Using the stitching lines as a guide straight stitch down the spine lines and the outside edges of the front piece. Stitch another line with straight or decorative stitches about ½ inch inside the front piece to make a decorative border.
6. Trim the excess batting by folding the fabric back over itself along the stitch lines and carefully trim close to the stitch lines. Make sure the fold of the fabric does not get clipped.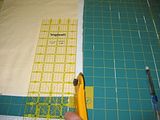 7. Embroider a design on the front cover portion. This is the 6 inch floral circle from Marie's newest Magnificence Monogram. The lettering is from my Viking Customizer.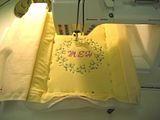 8. Lay the piece right-side-up and lightly press. Fold the front and back flaps over so the fabric is right sides together.
9. Using the stitching lines as a guide, stitch all along the top and bottom to secure the flaps. I've found that using the stitching line as a guide down the centre of the foot, and moving the needle a few taps to the right gives about an eighth of an inch of extra on the seam, and makes the cover easier to slip on when finished.
10. Press the seams open, clip the corners, and turn right sides out. Press lightly.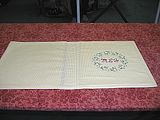 11. Open the book or binder so that the front and back fold almost inside out. Slip the cover onto the front and back binder flaps.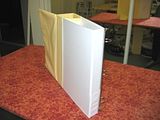 All done! Another view of the finished cover…