Sleepover at Granny's
sewing pattern
Although this pattern is named "Sleep Over at Granny's", you will soon find out that everyone around you has his or her own personal reason for wanting one.

Granddaddy wants one to keep with him all the time for afternoon naps when visiting family and friends.
The teenagers want one for their sleepovers with friends and then they want one made to give as a gift
to the same friends and then Granny wants one to take with her when coming over to look after her grandkids.

So in the end what was first to be a fun kit to help kids have their first sleepovers turned out to be
something fun, cute and practical that everyone around me wanted for themselves.

What is fun about this project is that it is so easy and fast to make that you will be able
to make one for everyone around you in time every time.
Here is a look at what the kit looks like when all in the bag
and all that is missing is the pajamas and toothbrush.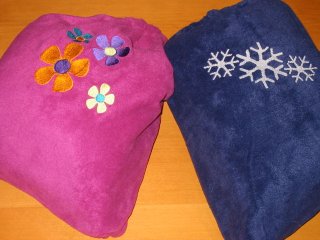 The flower designs are the Groovy flowers available for download at our Yahoo Group. See bottom of this page for a link to our group.
Here is a look at what the kit looks like when all in the bag
and on your back or your children's back.
With the remnants of fabric you will have left from this project, you should have enough to do the Scarf and Headband Project. There is a link for the Project's page at the bottom of this page.
at the bottom of this page there is a link.
PLEASE NOTE: To open and view this file, you will need two free softwares.
These two software are most probably already on your PC.
You will need Winzip to unzip the file and then Acrobat Reader to view the file.
To get either one of the softwares click on the appropriate link
Winzip
Acrobat Reader