Weddingfancy II
Freestanding Lace Machine Embroidery Designs
Original inspiration for this set was graciously provided
by Ginger and Marie...
This ensemble is the perfect complement to Weddingfancy Lace Bowl and Ornaments Ensemble.
The designs of this present ensemble will allow you to create doilies, coasters, napkinrings
and wine glass coasters to match the bowls and the ornaments from the first Weddingfancy.
The ensemble comes with completely illustrated instructions.
Please note that to make the bowl shown

you will need the

Weddingfancy

Lace Bowl Set.

The doily is 11 inches wide and can be

done in one color or two colors.
Left: Close-up of the wine glass coaster.

Above: A ribbon has been added for a different look.
Left: Close-up of the napkinring.

Above: Close-up of the coaster.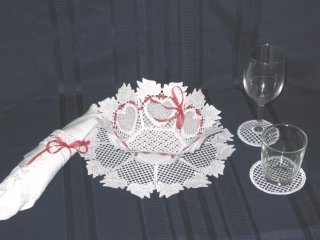 Note that everything in this photo is done with
this set except for the bowl. You need the
Weddingfancy
set to do the bowl.
Designs were embroidered on 1 layer of Wet N Gone.
NO JUMP STITCHES
in the one color designs except for the doily pieces that have 1 jump in them. The
jumps are limited to color changes and untouching parts in the multicolored versions
for a more efficient and pleasant embroidery experience.
* Also Included in the Set *
Designs without Candlewick to be decorated with beads or pearls.